Upload Image...
The International Engineering Fair is the most important industrial fair in Central Europe. All key fields of machinery and electrical engineering industry are represented, with primary focus on machining and forming. MSV's spotlight is Industry 4.0 and Digital Factory, i.e. digitization in production, one of the key trends of the innovation process.
Globally, in the manufacturing-led Industry 4.0 process, intelligent manufacturing has become the core driver of a new round of industrial revolution. In this industrial revolution led by intelligent manufacturing, lasers, with their unparalleled genetic advantages, are combined with automation and intelligence as advanced equipment to help push intelligent manufacturing surging forward.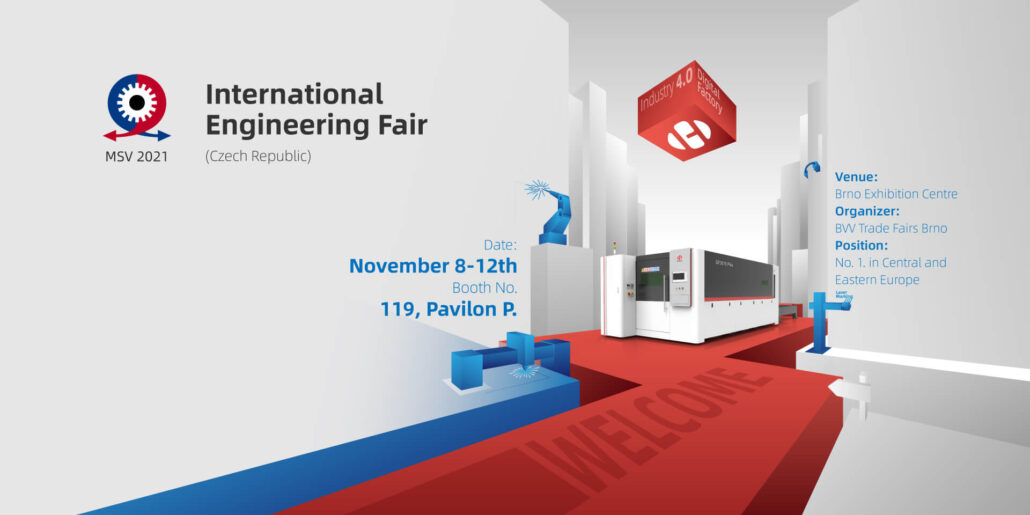 In this circumstance, HGTECH focuses on the comprehensive solutions of 【laser + intelligent manufacturing】 in various fields such as automation and smart factory, bringing more convenient, efficient and customized services to various industries with laser technology, helping industry customers to optimize the processing process, improve product quality and realize the transformation to intelligent manufacturing.
At the exhibition, HGTECH will be showcasing its GF series laser cutting machines in 6KW and 12KW models, handheld welding machine, cleaning machine and standard fiber laser marking machine to meet market demand.

GF series fiber laser cutting machine
GF PLUS is widely used for carbon steel, stainless steel, aluminum and other metal materials cutting and forming, with high speed, high precision, high efficiency, cost-effective and energy saving. It is the first choice of the metal processing industry.
1. Germany IPG fiber laser source and Raycus laser source, Raytools cutting head and dynamic focus system
2. Since laser is transmitted by fiber , no need to maintenance or adjusts the laser optical path , it greatly reduces the machines fault rate and prolongs the working life.
3. Large format cutting area meets the demands of various kinds of metal processing.
Handle laser welding machine
Model: SMART HW
Power range: 1000~2000w
Solder spot: 2-4mm
1. Easy to operate, three steps to start welding
2. Light weight welding gun, allowing one hand operation with 360°welding
3. Double-sided protective lens design, ensuring the stability of welding gun
4. Automatic wire feeding function, stable wire feeding while welding
5. Multiple welding modes available, information synchronized to the screen of welding gun
6. Five welding patterns to suit different welding scenarios
7. Multiple nozzle type available
Laser cleaning machine
Laser cleaning technology uses a laser with a narrow pulse width and high power density to act on the surface of the object to be cleaned. Under the combined action of rapid light vibration, vaporization, decomposition and plasma stripping, the surface dirt, rust or coating Instant evaporation and peeling occurs, realizing the purpose of surface cleaning. Laser cleaning has high efficiency, low use cost, environmental protection, health, and pollution-free compared with the traditional pickling, sandblasting, and manual polishing methods.
1. Environmental protection and safety respond to the national carbon neutral vision
2. No consumables, reducing processing time by 25%
3. Low cost and the cost of use is reduced by 50%
4. Low noise and health, pay more attention to the health and safety of employees
5. Convenient, easy to operate
6. Stable and efficient, stable processing products, long equipment life
Standard laser fiber marking machine
Fiber series products adop4 1064nm wavelength laser, which are suitable for various metal materials such as iron, copper. Aluminium, gold, silver, and some non-metallic materials. It is widely used in electronic components, hardware, electrical industry, daily consumer goods, sensors, auto parts, 3C electronics, crafts, precision apparatuses, gifts and ornaments, medical equipment, high-low-voltage appliances, bathroom accessories, battery industry, IT industry, etc.
1. With international high-quality fiber laser, it can mark all sorts of precise patterns according to customer requirements;
2. Multiple power laser light source, available for many industries;
3. Fast speed, high efficiency, stable output power, high reliability;
4. Long life, maintenance-free within 100,000 hours, operated in 24 hours and severe working condition;
5. High electro-optic conversion efficiency, little energy coupling loss, less power consumption with just 0.5 KW/Hour;
6. Small and compact size, easy to carry, save production space.
Even under the influence of the corona virus pandemic, HGTECH has maintained a significant growth in overseas market performance with its comprehensive overseas sales network layout and localization management strategy.
HGTECH is always in tune with the times, keeping pace with the world's leading level, following global industry trends, and committed to providing efficient and comprehensive services to partners everywhere.
From November 8 to 12, we will be waiting for you at Hall B, Booth 18!