The Rise of Great Nations, All Beginning with Shipbuilding and Dominating the Seas. As a symbol of a country's industrial prowess, the shipbuilding industry boasts exceptional industry expansion and a powerful economic driving force, earning it the title of the 'crown jewel of comprehensive industry.' In recent years, in response to the trend of transformation and upgrade in the shipbuilding industry, HGTECH has actively entered the high-end shipbuilding sector. From the cleaning and cutting of raw materials for ship components, to the welding of small, medium, and large components, to the planning and design of intelligent production lines for ship thin plate flat sections, and the advanced manufacturing of core components for green energy power systems, we have accelerated the realization of an integrated laser intelligent manufacturing solution for ship components and the collaborative upgrade of high-end, green, and intelligent shipbuilding technologies.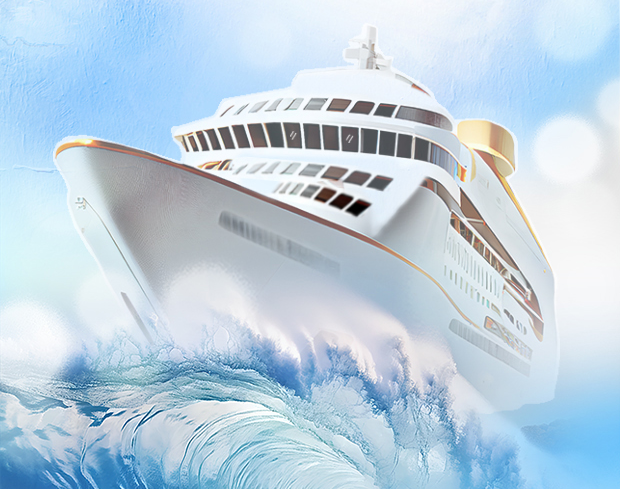 In this section, we will introduce smart equipment used in ship component manufacturing.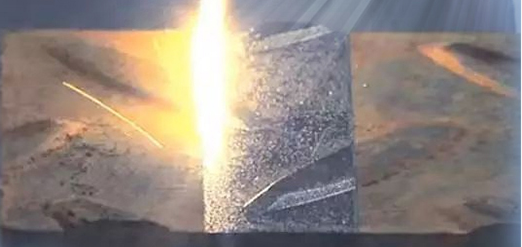 1. Laser Cleaning
In the shipbuilding and repair processes, there is a substantial need for cleaning and surface treatment. Whether it's the pre-treatment of steel materials during ship construction or the routine maintenance and refurbishment of the ship's hull, a significant amount of cleaning work is required. Traditional cleaning methods like manual polishing, sandblasting, and chemical cleaning not only have low precision and high costs but also pose serious environmental concerns. They can also harm the occupational health and safety of long-term operators. Laser cleaning, with its efficiency, stability, and non-destructive nature, is gradually becoming widely adopted.
Laser Cleaning Intelligent Equipment for Pipe Materials: This equipment can perform laser cleaning on various profiles, including round pipes, square pipes, rectangular pipes, elliptical pipes, and irregularly shaped pipes.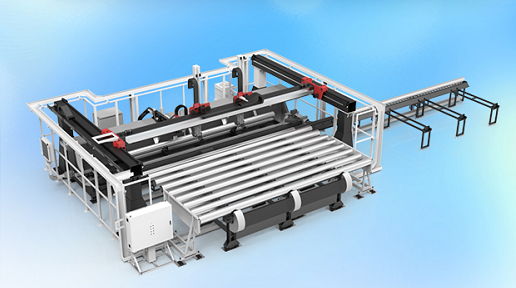 Powerful Processing: Capable of cleaning pipes with diameters ranging from 20 to 220mm and lengths up to 6 meters, it effectively removes rust without damaging the base material.
High Speed: With a high dynamic response, it can achieve a maximum positioning speed of up to 90m/min.
Stability: Featuring a cantilever structure and motor-driven gear rack, this equipment ensures stable structural components.
High Standards: Manufactured in accordance with export standards.
Efficiency: It can complete the cleaning of a 6m-long, 60mm-diameter pipe in just 10 minutes, increasing efficiency by tenfold compared to traditional mechanical or manual cleaning methods.
LNG Tank Laser Cleaning Intelligent Equipment: This equipment is primarily used for cleaning the exterior walls of LNG containers, including all exterior surfaces (straight sections and two end heads).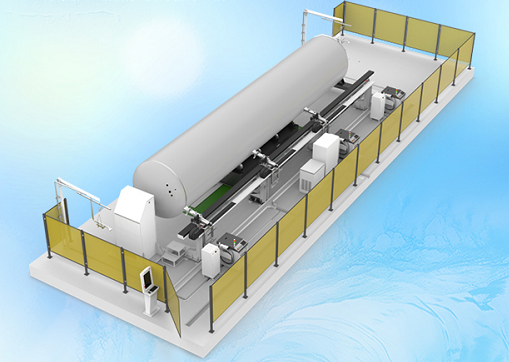 Stability: It operates efficiently and stably, even in high-temperature conditions.
High Precision: It offers precise control without causing any damage to the base material.
Green and Safe: Convenient to operate, it provides a clean and environmentally friendly solution.
2. Cutting and Material Processing
As the primary raw materials in shipbuilding, the efficiency and quality of cutting ship steel plates and profiles directly impact the production and utilization of ships. One typical application scenario occurs in the process of cutting materials for ship decks, components, and parts. Shipyards need to cut full plates into various required shapes, which demand high precision in material cutting. However, traditional cutting equipment and manual cutting operations struggle to meet the requirements for cutting precision, efficiency, and quality. Laser cutting smart equipment, with its advantages of high precision, no impact on materials, and high safety factors, has become the mainstream choice for material cutting operations.
High-speed Line Marking and Printing QR Code Smart Equipment: Combining line marking, printing, and QR code technology, it is suitable for shipbuilding, marine engineering, machinery, steel box beam manufacturing, and steel structure industries.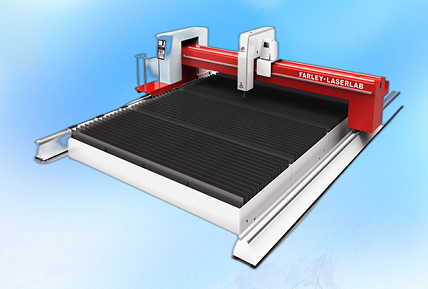 High Adaptability: Designed for specific use or integration into other smart manufacturing equipment, it offers strong adaptability.
Strong Compatibility: Utilizing large-scale QR code printing technology with extended capabilities for multiple characters and special characters.
High Quality: It offers high printing efficiency, excellent adhesion, and a very high QR code recognition rate.
WALC Series Large-Format High-Precision Laser Bevel Cutting Smart Equipment: Equipped with a self-developed real-time closed-loop control system and bevel nesting software, it can perform various bevel processing, reducing operational costs.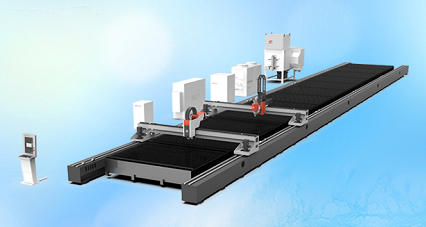 Large Format: With a maximum processing area of 40m x 6m, it meets the requirements for cutting extra-large plates.
High Quality: Capable of forming different types and angles of bevels within a range of up to 45 degrees in a single pass, it reduces material wastage and operational costs.
Modular Design: Utilizes a modular beam bed with a segmented design to save materials and space.
High Adaptability: Seamlessly integrates with other mainstream ship design software such as TribonM3 and Tekla.
MARVEL Pro Series High-Performance Flat Laser Cutting Machine: Equipped with a self-optimized laser source and a brand-new high-performance intelligent bus system, providing a high-precision, efficient, and stable cutting experience.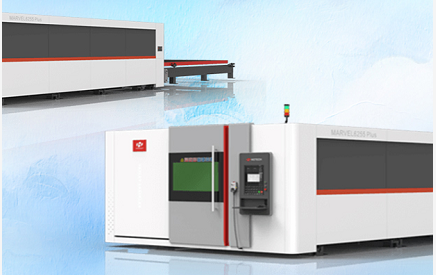 High Efficiency: Achieves a maximum cutting efficiency increase of 320%; with maximum positioning speeds of 169m/min for X and Y axes and a maximum acceleration of 3G.
Informatization: Equipped with a self-developed operating system and cutting HMI software, enabling outstanding operations from single-machine intelligence to automated production lines and smart factories.
Versatile Configurations: Optional features include visual positioning, automatic nozzle changing, hydraulic lift worktable, sheet metal automation, and a three-dimensional material warehouse.
Four-Clamp Heavy-Duty Pipe Laser Cutting Equipment: Fully automated production for precision cutting of extra-long and extra-heavy pipe materials, suitable for various industries such as shipbuilding, bridge construction, infrastructure, electrical towers, and smart logistics.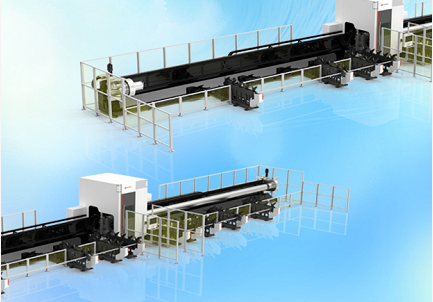 Full Automation: Features a fully automated CNC material loading and unloading system for smooth handling of heavy pipe materials with varying lengths, sizes, and shapes, reducing material abrasion and improving work efficiency.
Modular Design: Modular bed design that allows flexible combinations of loading and unloading beds ranging from 6 meters to 15 meters.
High Quality: Equipped with fully automatic high-precision four-clamp chucks to achieve "zero" waste material processing, capable of cutting single pipes with a maximum weight of 2 tons and a maximum diameter of 660mm.
SF Series Three-Dimensional Five-Axis Laser Cutting Smart Equipment: Developed with a high-performance cutting head and a comprehensive CNC system, complemented by an extensive expert laser process database.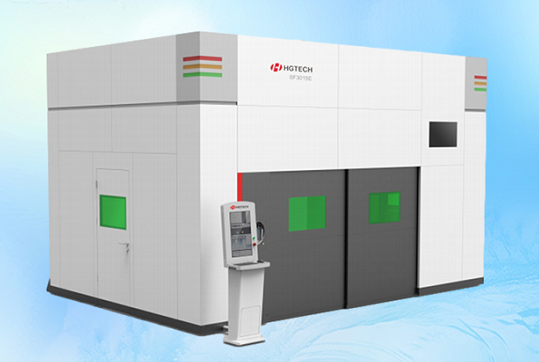 Enhanced Stability: Utilizes a gantry dual-drive structure to ensure long-term, high-speed, high-precision, and stable cutting with a repeated positioning accuracy of ±0.03mm.
Versatile Cutting: Can perform flat and three-dimensional cutting of workpieces.
Multi-Functionality: Allows for a quick change to welding modules on the platform, transforming it into a laser welding platform with multiple capabilities.
Halberd Fine Plasma Cutting Smart Equipment: Equipped with premium imported fine plasma power sources, suitable for various industries including construction machinery, shipbuilding, marine engineering, and steel structures.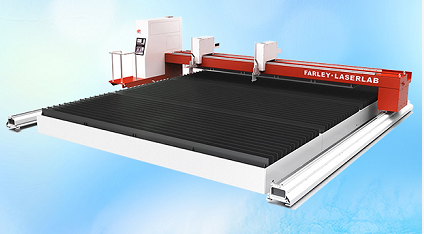 Wide Applicability: Satisfies the cutting needs of medium to thick metal plates, including carbon steel, stainless steel, aluminum, and more.
Customization: Can be tailored to meet the specific structural and functional requirements of individual customers.
3. Laser Welding
Welding is a critical technology in shipbuilding and a key factor in the development of the shipbuilding industry. Welding accounts for approximately 30% to 40% of the total working hours in ship construction. Therefore, welding productivity and quality have a direct impact on the production cycle, costs, and the quality of the ship's structure. Given the shipbuilding industry's diverse, small-batch, and highly customized production requirements, ship component welding processes still face challenges in terms of automation and flexibility. The production of high-end ship hulls demands the use of advanced welding processes and technology along with intelligent welding equipment.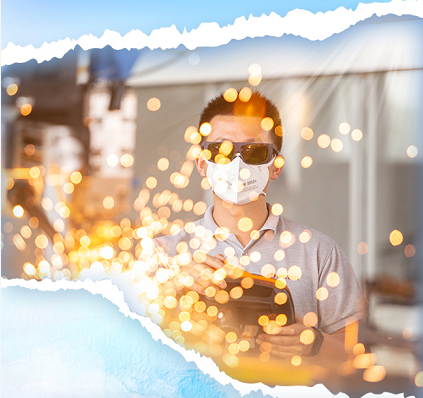 High-Power Laser Welding Smart Equipment: Equipped with fully automated material loading and unloading mechanisms, automatic workpiece clamping and positioning systems, fiber optic welding heads, weld seam tracking, and weld seam quality inspection systems, this equipment enables high-quality, cost-effective continuous output.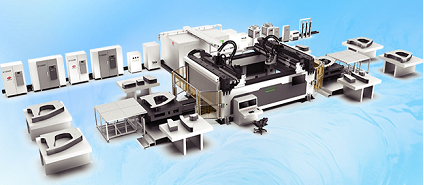 High Quality: Minimized product deformation, high stability in quality.
Environmental-Friendly: Non-contact, no pollution, minimal material loss.
Laser Composite Welding Workstation (Laser-MIG Composite Welding Smart Equipment): Used in shipyards' thin plate flat segment production lines, this workstation performs edge milling, assembly, and welding processes to create panel sections.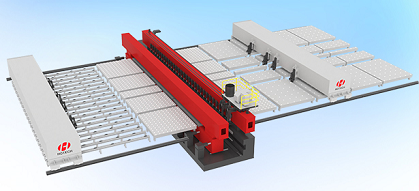 High Quality: Low heat input, effective control of heat deformation; minimal heat-affected zone, resulting in high weld seam strength.
High Efficiency: Faster welding speeds, 2-3 times that of traditional arc welding.
Versatility: Various welding methods can be applied, including laser autogenous welding, laser wire filling welding, and laser-IG composite welding.
Broad Compatibility: Suitable for medium and thick carbon steel plates, capable of welding single layers with a thickness of over 25mm and multi-pass welding for plates with a thickness of over 60mm.
Teach-Less Welding Robot Workstation: Utilizing visual sensors and dedicated software, this workstation assists robots in welding small group assemblies, performing flat corner welding, vertical corner welding, and fillet welding.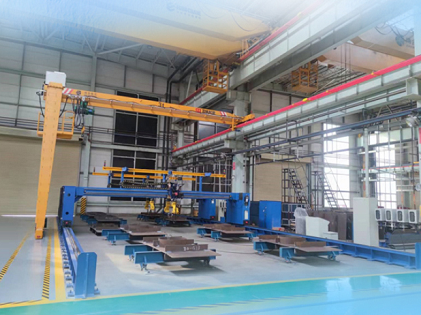 Intelligent Welding: Automatically identifies welding structures based on adaptive logic programming technology, enabling true automatic welding.
Teach-Less: No need for programming or teaching, no 3D model import, no manual selection of weld seam positions; the robot automatically matches welding parameters for the welding process.
Controlled Deformation: Allows for the precise control of welding deformation and optimization of welding parameters.
Cost-Effective: Easy-to-operate equipment with low labor costs.