With the rapid development of 3kw laser cutting machine technology and the gradual intensification of competition, more and more high-power cnc metal sheet cutting machine have been developed.
The available laser power can reach 30000w or higher, and it is possible to cut sheets as thin as 1 mm or as thick as 100 mm. In this post, we'll go over the maximum thickness that the most commonly used fiber cutting machines with varying laser wattages can cut.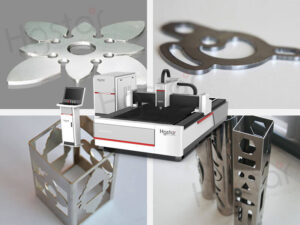 1. The metal laser cutter features a gantry-type single-side double-drive structure, an imported high-precision reducer, a gear rack, and a linear guide, as well as smooth transmission, fast acceleration, and bit precision.
2. The entire welded structure is used for both the bed and the moving beam. The welding process can be completely eliminated after annealing, rough machining, and vibration aging. Stress, rigidity, and high precision can be maintained for an extended period of time without deformation.
3. X and Y axis with high-precision servo motors, greatly improved bed movement performance, acceleration up to 1.5G, to ensure that the entire machine has high speed and high acceleration performance.
4. Using the CypCut fiber laser cutting machine dedicated CNC system based on the Windows operating system, a variety of laser cutting control dedicated functions were integrated. Module, powerful, and easy to use.
5. Switzerland RAYTOOLS Laser Head is capable of automatic height adjustment to maintain constant focal length and stable cutting quality.
6. Germany high-precision electronic proportional valve, precise control of cutting auxiliary gas pressure, in order to achieve the best cutting results.
Metal signs, metal signage, metal letters, metal kitchenware, metal arts, sheet metal fabrication, metal components, metal parts, and other metal fabrication are all cut with a 1000W/2000W/3000W fiber laser cutter. The best metal laser cutter is now available at a low cost.
1. Fast cutting speed: The 1000w fiber laser cutting machine uses a German IPG fiber laser source (other options are available), and the cutting speed can reach 15 meters per minute.
2. High cutting accuracy: The Japanese Panasonic servo motor, double ball screw drive, and precision linear guide structure are used in the 1kw fiber laser cutting machine. The precision of the fiber laser cutting system is higher when compared to a single drive system. And a cutting gap of 0.05mm, which is ideal for high-efficiency precision machining.
3. Automatic feeding design: saving loading and unloading time, the steel metal cutting machine can automatically load and unload during the cutting operation, providing more than 30% of the whole work efficiency;
4. Low operating and maintenance costs: The steel metal cutting machine uses optical fiber transmission, no reflection lens, no need to adjust the optical path, zero maintenance of core key components, and stable operation; it can cut all types of metal sheets with air and consumes 0.5-0.5 hourly power. 5 degrees Celsius;
5.Unrestricted by graphics processing: Professional CNC system, non-contact flexible processing, unaffected by the appearance of the processing and the plate surface, the high power cutting laser machine can process arbitrary graphics.
  Application
1.Materials that can be cut: The 1000w fiber laser machine can cut stainless steel, carbon steel, various alloy steels, copper, aluminum, titanium, aluminum alloys, titanium alloys, pickling plates, galvanized plates, and galvanized aluminum.
2. Industries where it is used: The 3kw laser cutting machine machine is widely used in chassis cabinets, agricultural machinery, advertising production, kitchen and bathroom, sheet metal processing, environmental protection equipment, auto parts, machinery manufacturing, metal handicrafts, hardware products, elevator equipment, and other industries.