Enterprises must constantly achieve breakthroughs in core technologies, master more key technologies with independent intellectual property rights, and control the leading power of industrial development.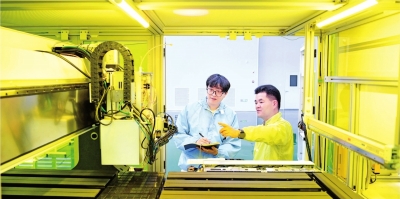 Wuhan's optoelectronic information industry is "unique", and the biopharmaceutical industry has ranked first in the country. Specialized, refined, and innovative "little giants" have become invisible champions in the global segmented market in China.
With the spirit of daring to "pierce the sky", every enterprise in Wuhan is striving to break through the technological ceiling towards the global forefront and industry gaps, thereby mastering key core technologies and continuously improving market competitiveness.
The just concluded 5th Plenary Session of the 14th Municipal Party Committee has clearly proposed: comprehensively deepen reform, create a first-class innovation ecosystem, promote the market more effectively with more proactive government, promote the continuous emergence and growth of technology-based small and medium-sized enterprises, actively create a national level platform to attract and gather talents, vigorously cultivate an innovation culture, and make Wuhan a vibrant innovation city for a long time.
Innovative entities are working hard to push forward
Enterprises are the main body of innovation. Wuhan focuses on strategic high-tech industries and advanced manufacturing industries, and has successfully fought the battle for key core technologies. "A beam of light" witnesses the innovation path of Wuhan enterprises.
Entering the HGTECH Industrial Park in Optics Valley, the largest 3D and 5-axis laser cutting machine production line in China, dozens of new equipment are ready to be shipped. Hu Junwei, Chief Engineer of HGTECH's 3D Five Axis Product Line, introduced: "Currently, the entire production line can achieve monthly delivery of 30 to 40 units, and the processing efficiency and rhythm of some components of domestic CNC systems can reach about 105% of that of imported systems.
This was unimaginable more than a decade ago. Due to the lack of core technologies such as laser cutting heads, the market for high-power three-dimensional and five-axis laser cutting equipment has long been occupied by foreign enterprises, causing deep troubles for domestic enterprise users: high prices, long delivery cycles, and high after-sales service costs.
In response to user needs, HGTECH has led the establishment of a research and development team. After more than ten years of joint research and development, it launched the first domestic 3D five axis laser cutting machine for automotive hot formed parts in September 2017. "Hu Junwei introduced.
Through continuous research and achievements, the second generation equipment equipped with independent technology laser cutting heads was launched into the market in 2019; At the end of last year, the "3D Five Axis Streamlined Intelligent Manufacturing" production line was put into operation, which is the first similar production line in China, with an efficiency increase of 200%.
The hardware should be hard enough, and the software should also be strong enough. After the comprehensive localization of hardware, HGTECH has targeted CNC systems: in early 2020, HGTECH and Huazhong CNC jointly launched the research and development of domestic CNC systems; Last October, the third-generation equipment using domestically produced CNC systems was delivered, which not only achieved domestic substitution of imported equipment, but also put pressure on foreign competitors to shorten their supply cycle from 10 months to 2 months.
The 'first platform' represents a breakthrough in bottlenecks and also signifies the mastery of global industrial discourse power. Ma Xinqiang, Chairman of HGTECH, said, "Our domestically developed three-dimensional and five-axis laser cutting machine currently ranks first in the global market sales volume.
Pursuing excellence and innovating continuously. On June 28th, the headquarters building of the Central Research Institute of Huagong Science and Technology was unveiled. Ma Xinqiang said that more than 200 million yuan of research and development investment will be added annually for the Central Research Institute, "to create the next generation of more technologically advanced products, leading the industry, replacing domestic products, and being specialized, refined, and innovative.