On October 30th, HGTECH's intelligent manufacturing business, 3D five axis laser cutting intelligent equipment, ushered in an important moment of delivering over 200 units in the hot forming industry.
The breakthrough from 1 to 100 units took us nearly 5 years, while from 100 to 200 units, we took less than a year. "Deng Jiake, a member of the Huagong Science and Technology Party Committee and general manager of the Huagong Laser and Intelligent Equipment Business Group, said that this year's third-generation 3D five-axis laser cutting intelligent equipment, combined with self-developed third-generation lightweight 3D five-axis cutting heads, has achieved international advanced performance and truly achieved domestic substitution, It is expected that the annual sales volume will continue to remain the top in China, and at the same time, it will successfully open up markets in Europe, America, and Southeast Asia.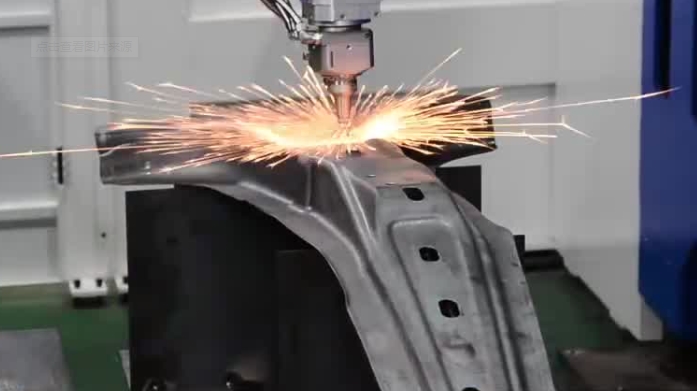 Light car running fast, body black technology hot forming technology
Traditional cars can reduce overall weight by 10% and increase fuel efficiency by 6% to 8%; For every 100 kilograms reduction in curb weight (empty weight) of a car, the fuel consumption per 100 kilometers can be reduced by 0.3 to 0.6 liters; For every 10kg reduction in weight of a pure electric vehicle, its range can be increased by 2.5km. The demand for lightweight in new energy vehicles is more urgent.
Assuming a car loses 100kg of weight after being lightweight, resulting in a 0.5L decrease in fuel consumption per 100 kilometers. The price of 95 octane gasoline is 9 yuan per liter, then when it reaches 200000 kilometers, a 100kg lightweight can save the owner 9000 yuan in fuel expenses.
As an important component of automobiles, the weight of the vehicle body accounts for 30-40% of the total weight of the vehicle. Therefore, the lightweight of the vehicle body plays an important role in the overall lightweight of the vehicle. The application of hot forming technology can reduce body mass, improve fuel economy, and achieve energy conservation and emission reduction. High strength steel, with its high hardness, high toughness, and high wear resistance, is widely used in the field of automotive hot forming.
In 2017, HGTECH launched China's first three-dimensional five axis laser cutting machine for high-strength steel hot formed parts – AUTOBOT 3015. This equipment has solved the problem of difficult stamping of high-strength steel, replacing a large number of punching and trimming dies, which can be said to be "cutting iron like mud"; Suitable for batch continuous operations, it can significantly reduce product development cycles and mold costs; Compared with traditional robot 3D cutting, it has high cutting accuracy, fast speed, and smoother cross-section.
In April 2018, the equipment was sent to the site of a well-known automotive hot forming enterprise, officially sounding the horn of "domestic substitution". In the same year, he won the first prize for scientific and technological progress in Hubei Province.
Innovative and iterative upgrades, leading to the emergence of domestically produced equipment in the C-position
Due to the lack of core technologies such as laser cutting heads, the market for high-power three-dimensional and five-axis laser cutting equipment has long been dominated by foreign equipment manufacturers. Foreign equipment sells more expensive and services are more expensive. The foreign party holds the key technology in their hands and charges high service fees. If there is a problem, it will not be resolved until working days.
We cannot always be led by foreigners, and the company proposes that core components must be independently developed. To solve the problem of cutting heads getting stuck in the neck, the R&D team went out to study and started developing the second generation of 3D five axis. After nearly 2 years of dedicated research, the localization of core light sources and cutting heads has been achieved, changing the technological monopoly of foreign laser brands in China's automotive hot forming market. The equipment performance is no inferior to foreign technology.
In March 2019, HGTECH reached a cooperation with Chinese hot forming head enterprises, and the second generation AUTOBOT3015 equipped with independent cutting heads began to be put into use.
Breaking the "card" and moving forward to create high-tech threshold "fist" products
HGTECH has been prepared for a long time to be "industry-leading and domestically produced substitute". In the past, the core unit technology of 3D five axis laser cutting machines – the five axis linkage CNC system – has long been monopolized by foreign CNC companies, resulting in a series of problems such as difficulty in after-sales service when system failures occur. In recent years, due to the dual impact of the international trade war and the COVID-19, the procurement and delivery of CNC systems have been seriously hindered, and the localization of CNC systems is imminent. At the beginning of 2020, the company's product line held a special meeting with Huazhong CNC for system localization development and review, and decided to launch the "brain swapping project", which involves replacing imported CNC systems with domestically produced systems with independent intellectual property rights. After two years of cooperation and continuous research and development testing, the Farley-H system jointly developed by both parties was used in bulk at the end of October for order matching and delivery.
This year, the third-generation three-dimensional and five-axis laser cutting intelligent equipment, combined with the self-developed third-generation lightweight three-dimensional and five-axis cutting head, has undergone more than 20 upgrades in terms of bed structure, cutting head, human-machine interface, and appearance. The comprehensive efficiency has increased by 15%, the localization rate has exceeded 90%, and the market share has remained the first in China. On some models, the efficiency and performance are comparable to world-class brands, and even surpass them in efficiency.
Leading sales and continuous delivery. The shipment volume of 3D five axis laser cutting intelligent equipment in the first three quarters has doubled year-on-year. In October of this year, the "3D Five Axis Streamlined Intelligent Manufacturing" production line was officially put into use. This production line is the first 3D Five Axis Laser Cutting Equipment Streamlined Intelligent Manufacturing production line in China, which can achieve standardization, automation, and batch production of laser equipment, and improve efficiency by 200%.
From technology to sales, 3D five axis laser cutting intelligent equipment is shining "Made in China" with a leading position.
In the future, HGTECH will continue to deeply explore industry applications, target high-end manufacturing, break through the bottleneck of core device localization industry, and focus on the strategic goal of "industry leading, domestic substitution, specialization, precision, and novelty" to promote continuous innovation and upgrading of products, and contribute to achieving high-level technological self-reliance and self-reliance.