Wuhan Donghu New Technology Development Zone is known as the "China Optics Valley". It is not only the world's largest research and production base for fiber optic cables, but also the largest laser industry base in China.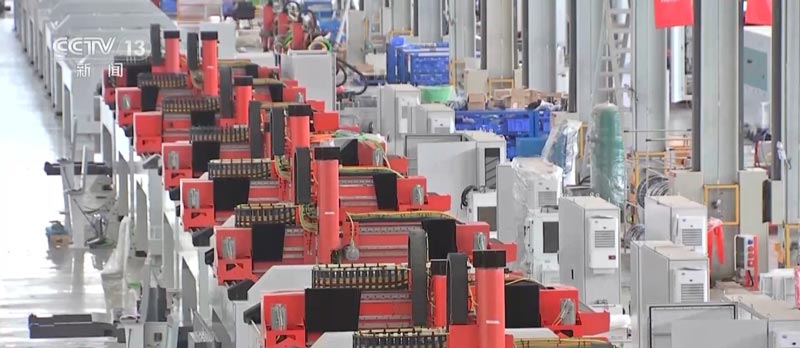 Focusing on the major strategic needs of the country, the growth of every leading enterprise in Optics Valley and the autonomy and controllability of every core technology are almost accompanied by technological breakthroughs.
Building a "Chain" of Light and Striving for Integration
This is the largest 3D five axis laser cutting machine production line in China, and the staff are conducting final technical performance tests on the products to be delivered. In October 2022, as soon as this production line was put into use, product orders reached the total of the past five years.
Hu Junwei, Chief Engineer of HGTECH's 3D Five Axis Product Line: In 2022, we achieved the delivery of 200 units. By the end of July 2023, we have achieved the delivery of nearly 280 units.
The 3D five axis laser cutting machine is widely used in fields such as automobiles and ships, mechanical manufacturing, aerospace, etc. It is a sharp tool for processing irregular curved parts and also represents the highest technical level of laser CNC machine tools in the world. Due to its high accuracy, fast speed, and smoother cross-section, the thermal forming technology brought by the three-dimensional five axis laser cutting machine can effectively reduce the weight of the entire vehicle. In recent years, the demand for it in the new energy vehicle market has been particularly urgent.
Hu Junwei, Chief Engineer of HGTECH's 3D Five Axis Product Line: A 3D Five Axis Laser Cutting Machine covers the main core unit technology, one is a CNC system, which is equivalent to its "brain"; The second is a laser, which is equivalent to its light source; The third one is this three-dimensional five axis cutting head, which is equivalent to a knife. By using the "brain" to command this light source and using the cutting head to process irregular surfaces on the parts, the entire process is completed in one go.
A seamless and efficient collaboration of three core unit technologies. During the investigation, the reporter found that manufacturing a complete three-dimensional and five axis laser cutting machine involves tens of thousands of components provided by more than 300 companies, and the most core of them, the "three piece set," could not completely break away from import dependence until a year ago.
As early as 2018, HGTECH launched its first set of three-dimensional five axis equipment with domestically produced cutting heads, which also won the first prize for scientific and technological progress in Hubei Province that year. However, when the product truly served the market, HGTECH still faced difficulties because the localization of the other two core unit technologies was indispensable.
Li Jie, Vice General Manager of Ruike Laser: All of your automobile factories or sheet metal processing factories are queuing up, taking cash to queue up overseas. With a large number of market applications, there is demand, and it is also trying hard to help solve problems in industries like the country. How can we break the situation.
Breaking the situation requires not only solving the pain points of customers, but also breaking through the industry's bottlenecks, jointly tackling difficulties and breaking monopolies, and the two companies can hit it off at once. Ruike Laser, founded in 2007, was once a self incubated enterprise by HGTECH. After more than ten years of deep cultivation, Ruike Laser has independently completed the overall layout of the upstream of the industrial chain, becoming one of the most powerful competitors for imported lasers.
Li Jie, Vice General Manager of Ruike Laser: If I want to break through this high-end application abroad, I also need some high-end support points to achieve this upgrade and then work towards higher technical levels.
Ma Xinqiang, Chairman of HGTECH Industry Co., Ltd.: The core of enterprise competition, including industrial competition, is still the competition of supply chain and industrial chain. We feel that we must develop better products that meet customer needs under the condition of independent and controllable supply chain and innovation chain.
To ensure the autonomy and controllability of the supply chain, it is necessary to promote the deep integration of the industrial chain and innovation chain. After joining hands with Ruike Laser, HGTECH quickly threw olive branches at Huazhong CNC.
Tian Maosheng, President of Wuhan Huazhong CNC Co., Ltd.: It may seem like a simple device, but in reality, it is a comprehensive system engineering of mechanics, electronics, hydraulics, control, materials, and so on.
Strong chain replenishment, domestic 3D 5-axis C-position debut
The CNC system is the "command brain" of high-end machine tool equipment, and has always been a strategic material that has been subject to long-term blockade by foreign countries against China. Starting from 2020, a "brain swapping project" has officially launched a three-dimensional and five axis comprehensive localization replacement path. Around this breakthrough path, a mechanism driven by "chain owners" for collaborative innovation in the upstream and downstream of the entire industrial chain has begun to converge and exert force.
HGTECH, Ruike Laser, and Huazhong CNC, the three major chain leaders, have formed an alliance and launched collaborative innovation across multiple enterprises, fields, and disciplines on one production line.
Ma Xinqiang, Chairman of HGTECH Industry Co., Ltd.: Some of the industry directions supported by the state are the focus of our efforts. Together, these core enterprises have dedicated teams, closed research and development, and the supply chain is also very responsive.
Tian Maosheng, President of Wuhan Huazhong CNC Co., Ltd.: From an upstream perspective, my chip manufacturer, my own motor, my materials, and other suppliers work together to ensure that my entire CNC system product and technology are guaranteed. Through deep integration, my entire chain is connected.
The reporter conducted research in several enterprises and the most profound impression was that the three "chain owners" became the question setters, and all links of the industrial chain extending around CNC systems, cutting heads, and lasers became the answer takers. The application scenarios were rich, the market demand was clear, and the localization of three-dimensional and five-axis replacement truly became the "invisible hand" driving industrial development in the process of production manufacturing, transformation and upgrading, and high-quality development. The breakthrough from 1 to 100 units took HGTECH a full 5 years to polish, while joint innovation shortened the promotion speed of 100 to 200 units to less than a year.
Li Jie, Vice General Manager of Ruike Laser: From the perspective of the government, it has provided this kind of support for the industrial chain, and with our technology to break through, we have opened up a blue ocean.
On the production line of HGTECH's 3D five axis intelligent equipment, the localization rate of orders has exceeded 90%. Costs have decreased and production capacity has increased. During our research period, the company received an order for nearly 50 units from a car manufacturer. At present, the domestic market share of HGTECH's 3D five axis has reached 70%.