Anti-counterfeit laser marking machine applies advanced 3D dynamic marking technology, which is applicable to various metal materials (including rare metals), electroplating materials, coating materials, spraying materials, plastic rubber, anti-counterfeit mark spraying, resin, ceramics, etc.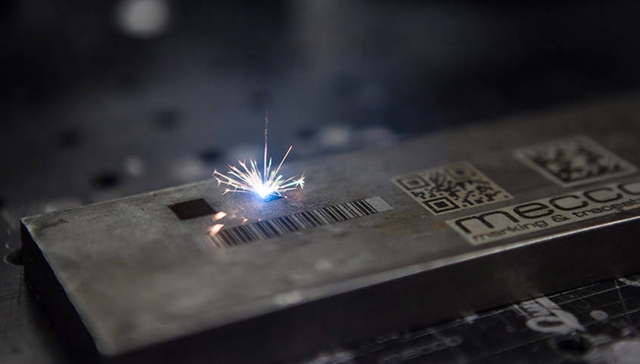 Laser marking machine is mainly used in some occasions that require more precision and precision. The printed text and various patterns and lines are becoming more and more refined and can be accurately printed on the goods. Moreover, the printed pattern is more permanent and will not fade and blur, which can effectively promote the anti-counterfeiting effect.
Compared with the traditional inkjet marking method, the advantages of laser marking and engraving lie in the wide range of applications, and various substances (metal, glass, ceramics, plastics, leather, etc.) can be permanently marked with high-quality marks. There is no force on the workpiece surface, no mechanical deformation, and no corrosion on the material surface.
Applicable materials of the laser marking machine include: common metals and alloys (iron, copper, aluminum, magnesium, zinc and other metals), rare metals and alloys (gold, silver, titanium), metal oxides (all kinds of metal oxides can be used), special surface treatment (phosphating, aluminum anodizing, electroplating surface), ABS materials (housing of electrical appliances, daily necessities), ink (transparent keys, printing products), Epoxy resin (packaging and insulating layer of electronic components).
At present, laser marking machines occupy a leading position in the laser processing market, because the anti-counterfeiting technical data of laser marking machines can be carried out through various teaching forms such as language, bar code, two-dimensional code, etc. These activities have corresponding reading equipment, which can continuously reduce the time difference of enterprise AI input to a certain extent. As a carrier of anti-counterfeiting data, it is very suitable.
About HGSTAR: HGSTAR is the pioneer and leader of laser industrial application in China, and the authoritative provider of global laser processing solutions. We have comprehensively arranged laser intelligent machine, measurement and automation production lines, and smart factory construction to provide overall solutions for intelligent manufacturing.