SMART HWA Series: Air-cooled laser welding machine
If you work in the industries of cabinet kitchen, staircase elevator, shelf, oven, stainless steel door&window guardrail, and you want to improve the welding efficiency and quality, then you should try our Air-cooled Laser Welding Machines, which has the best fibre laser beam for fast welding speed, high quality welds with no consumables.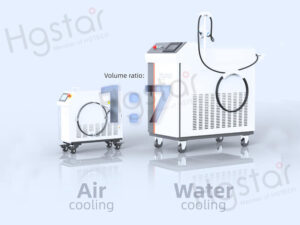 It is time to say goodbye to traditional welding method. Traditional welding is difficult to operate, the efficiency of the welding is unsatisfied and the the work-piece is easily deformed. The equipment is costly to purchase and maintain. In addition, the radiation, fumes and harmful gases are also harmful to the health of the workers. Nowadays it is difficult to recruit workers and labour costs are high.
Five reasons why you should choose handheld welding:
Easy to operate/no professional welder required, friendly to new beginner
Fast and efficient welding (2-10 times faster than arc welding), saving on labour costs.
High welding quality, beautiful weld joint, firm welds, low deformation of the work-piece.
Less consumption of welding consumables, low cost of maintenance, long service life.
More environmental friendly, less health hazards
HGTECH HW series, designed for your needs!
lCompact interior design, good interactive control system.
lWelding head with oscillating mirror, improves the welding quality.
lLightweight shape; comfortable to hold in one hand; easy to operate.
lBeautiful weld seam; no need for post-polishing.
lMultiple security alarms, high security.
lA wide choice of nozzles.