For laser metal cutting machines you benefit from excellent laser beam quality, high efficiency, high speed, easy operation, low cost, low maintenance, stable operation and ultra-flexible optics.
Metal laser cutting machines are easily adapted to the different needs of industrial manufacturing.
1. High precision and stability.
With a high precision ball screw drive mechanism and optimised CNC control,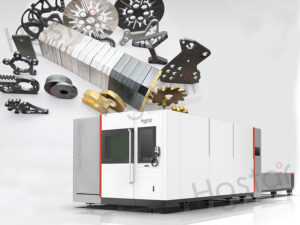 Can meet the precision parts processing, dynamic performance is stable and lasting.
2. High cut section quality.
With the mechanical follower cutting head system, the cutting head follows the height of the sheet while always maintaining the position of the cutting point, resulting in a smooth cutting seam.
3. High performance.
Can replace CO2 laser cutting machines, CNC punching machines and shearing machines for thin plate cutting; the total cost of laser metal cutting machines is equivalent to 1/4 of CO2 laser cutting machines and 1/2 of CNC punching machines.
4. Low running cost and fast cutting speed
I. Consultation.
After receiving your request, we will recommend the best metal laser cutting machine for you.
2. Quotation.
We will provide you with a detailed quotation based on the laser metal cutting machine that you have consulted. You will get the best specifications, the best accessories, and the best price.
3. Process Evaluation:
To avoid misunderstandings, both parties carefully evaluate all order details (specifications, technical parameters, and business terms).
4. Placing an order:
If you have no reservations, we will send you a PI (Proforma Invoice). We will then sign a contract with you.
5. Production:
As soon as we receive your sales contract and deposit, we will begin manufacturing the metal cutting machine. During the production, the buyer will be kept up to date on the latest production news.
6. Quality Control:
The entire machine manufacturing process will be subject to regular inspections and strict quality control. The entire metal cutting machine will be tested before leaving the factory to ensure that it works properly.
7. Delivery.
After the industrial CNC laser cutting machine is confirmed by the buyer, we will arrange delivery according to the terms of the contract.
8. Customs Clearance.
We will provide the buyer of the laser metal cutting machine with the necessary shipping documents and ensure smooth customs clearance.
9. Service and Support.
We will provide professional technical support and service for laser metal cutting machines via telephone, email, Skype, WhatsApp, online live chat and remote service. In some areas, we also offer door-to-door service.