Xi Jinping, general secretary of the CPC Central Committee, president and chairman of the Central Military Commission, emphasized during a visit to Wuhan City in Hubei Province on the 28th that scientific and technological self-reliance and self-improvement is the foundation of national strength and security. We must complete, accurate and comprehensive implementation of the new development concept, in-depth implementation of innovation-driven development strategy, the lifeblood of science and technology firmly in own hands, greater progress in science and technology self-reliance and self-improvement, and constantly enhance the independence of China's development, autonomy, security, giving rise to more new technologies and new industries, opening up new areas of economic development new tracks, the formation of new advantages in international competition.
In the afternoon of the 28th, Xi Jinping, accompanied by Hubei Province Party Secretary Wang Meng Hui and Governor Wang Zhonglin, went deep into Wuhan's enterprises and communities for research.
Xi Jinping first came to Wuhan HGTECH for inspection. In the enterprise R&D building, Xi Jinping listened to the development of Hubei Province's optoelectronics information industry and the core technology research, and carefully inspected the chip industry innovation results display. Xi Jinping pointed out that the optoelectronics information industry is a strategic high-tech industry with a wide range of applications, and is also the first high-tech industry in China to achieve a breakthrough. Wuhan East Lake New Technology Development Zone in Hubei is unique in the field of optoelectronics information industry. To strengthen technology research and development, master more core technology with independent intellectual property rights, and constantly extend the innovation chain, improve the industrial chain, to promote the accelerated development of China's optoelectronics information industry to make greater contributions. With the development and growth of China, breakthroughs in key core technologies can not be delayed, we must adhere to the problem-oriented, play the advantages of the new national system, catch up and accelerate the realization of science and technology self-sufficiency and self-improvement.
Xi Jinping has walked into the enterprise laser technology museum, semiconductor panel laser intelligent equipment production workshop, to inspect the laser technology industry application exhibits. Xi Jinping stressed that high-end manufacturing is an important support for high-quality economic development. To promote the transformation and upgrading of China's manufacturing industry and build a strong manufacturing country, we must strengthen technology research and development and improve the rate of localization and replacement.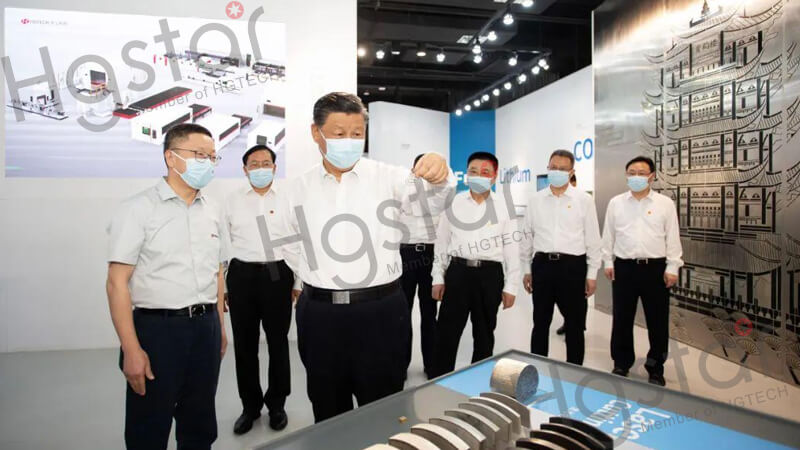 In front of the workshop building, Xi Jinping had a friendly communication with the enterprise staff. Xi pointed out that, "China is the second largest economy in the world, but there are still many shortcomings, the foundation of some industries is not very strong, and further development must rely on innovation. In order to comprehensively build a modern socialist country and achieve the second century goal, innovation is a decisive factor. The Party Central Committee attaches great importance to science and technology innovation, the implementation of science and education strategy and innovation-driven development strategy. If every city, every high-tech development zone, every science and technology enterprise and every scientific research worker can solidly promote scientific and technological innovation around the development direction determined by the country, then we will definitely be able to achieve the set goals. Our generation must take up this glorious mission. Science and technology innovation, one depends on investment, the other on talent. I am glad to see that many elite talents have gathered here, and all of them are young and energetic. The Party Central Committee is very concerned about the growth of scientific and technological talents, and party committees and governments at all levels should create institutional mechanisms and working and living environments conducive to scientific and technological innovation as far as possible, so that scientific and technological workers can contribute to the motherland and the people. I hope you will continue to work hard and achieve more."
Source: Xinhua News Agency, CCTV News
Note: Translated version